Our Arts Council
The Slocan Valley Community Arts Council (SVCAC) is located in the beautiful Slocan Valley region of British Columbia. Our Council's mandate is: "To increase and broaden the opportunities for residents of the Slocan Valley and area to enjoy and participate in arts and cultural activities." Our work in the community is guided by this mandate.

Our ByLaws
Our non-profit society bylaws set out the rules for governing and operating the Slocan Valley Community Arts Council.
Read Our By-Laws 
Grants
We provide funding to member groups and individuals through an annual grant program.
Community
We coordinate and host arts and cultural events and projects throughout the Valley.
Advisory
We make recommendations to the Columbia Kootenay Cultural Alliance (CKCA) for the yearly allocation of monies they make available for our area.
Our Board
Natasha Smith 
President 
Lance Hall 
Vice-President 
Fletcher FitzGibbon
Treasurer
Peter Vogelaar 
Past-President  
Eden DuPont
Communications  
Lynne Alexander
Membership  
Sherry Heyliger 
Community Relations 
Lisa Heisler 
Grants
Staff
Val Mayes | Administration
Contact Us
svcarts@gmail.com
Funding Partners
Additional funding is provided by the BC Arts Council, the Regional District of Central Kootenay and the Columbia Basin Trust.
Join Our Community
Slocan Valley Arts membership is open and inclusive to all residents, artists, organizations and businesses, anyone in the community who supports our mandate. Please visit our membership page.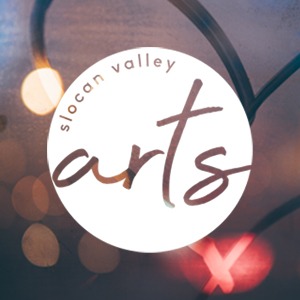 Share your love of local arts + culture: