Tell us a little about yourself, your work and your art practice.
My name is Cameron Stewart, I am a potter and a residential masonry contractor living in Passmore and working throughout the West Kootenay. I moved to the Slocan Valley from Vancouver Island via Vancouver after finishing my BFA at Emily Carr. My ceramic work primarily focusses on soft slab-built porcelain vessels but varies from architectural ceramics to sculptural works. With very few exceptions my work is fired in atmospheric kilns, most of these firings are fueled with wood. The dialogue with the firing process influences and shifts my work in new directions more than any other part of the ceramic cycle, and I love the evidence of movement in glazes, capturing a moment of fluidity in what becomes a seemingly static material once cooled. Beyond the serendipity and intrigue of wood firing, my vessels are heavily influenced by architecture, pattern, and texture. My contracting work is not necessarily a creative studio pursuit, but I consider it a branch of my arts practice. The majority of projects are tile installations specializing in custom showers, and as an extension of my studio work, I view these shower installations as vessels for water and humans celebrating the functional durability and diverse beauty of ceramic materials. The contracting work also directly relates to my interests in architecture, pattern, and texture.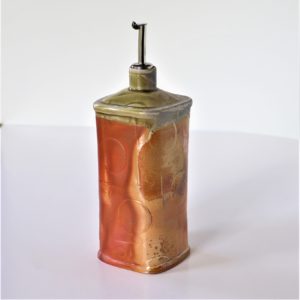 What have you been up to these last few months?
Over the past few months I've taken advantage of some extra free time at home to complete the last few phases of building my own wood fired pottery kiln. This project has taken the past 4 years and substantial investment to bring to completion and will be fired for the first time this fall. The kiln is a larger variation of a design I developed well working on the coast after my undergraduate degree. Up to this point I have been firing my work with other potters in the Kootenays but having my own kiln to fire and explore will enable me to research surfaces and firing cycles specific to my pots and glazes. After completing the kiln build my focussed turned to harvesting the wood to fuel the kiln, and now making the body of work to fill and fire it for the first time.
  
Has your practice or work changed at all or been affected, and to what extent, by the pandemic?
I work in a fairly isolated way in both my studio and my contracting work, so the initial direct impact of the pandemic in my practice was quite low. Attention to distancing on job sites and gallery sales going online were the biggest direct changes that came into play in the first few months, but as it has worn on, COVID seems to have a way of bleeding into many aspects of life. The effects manifest themselves in varied and subtle ways influencing relationships and social dynamics that take away from overall inspiration and creative motivation for my studio work. The building of the kiln was a great way to keep moving forward in that it is a more lineal problem solving and direct manual labour, less abstract and emotive than making pots in the studio. As things have normalized in many ways, I have been able to get my mind back into the studio work and engage with making again with purpose and vigor.