The Castlegar Art Walk is coming up fast. This year marks the 23rd annual event and runs June 17th – September 28th at various venues throughout Castlegar.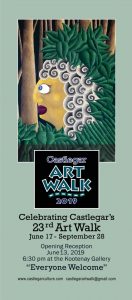 Join participating artists for an Opening Reception on June 13th, 6:30 pm at the Kootenay Gallery. Our newest board member Sherry Heyliger is exhibiting her work at the Castlegar Public Library for the duration of Art Walk. Read more about Sherry and her artwork: "All That Glitters" Nature Meets Culture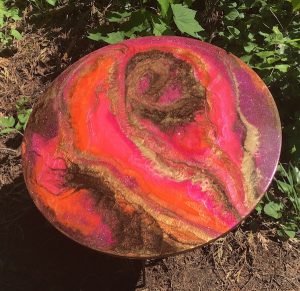 "Entranced and exhilarated, my relationship with the natural world…its beauty and grandeur leaves me…"
Could something made of my own hand be as wondrous as the offering of the natural world?  I set out to explore if I could create art that could leave the viewer breathless and excited as the light kissed the surface, the elements marrying and forming yet another….a new pattern of light and information.
My earliest creations were delightful however I wanted more sparkle, more depth…more feeling!  I wanted the brilliant blast of cracking open a geode egg or the dance of the sun on a wave…
This mission led me to add more mica pigment to my work…and loads of real semi precious stone and glass too.  All of this and an environmentally friendly resin made here in Canada to hold and finish the works like mirrors.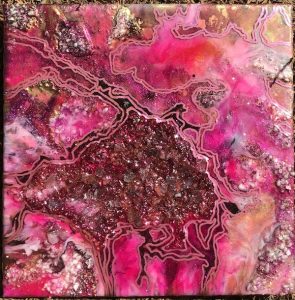 Sherry Heyliger is a multi-media artist that sees movement and magic in the everyday. She has been showcased at TheWomen's Art Museum of Canada, ARTBOX NYC, NDAC's "Appetite for Art", Luna Nocturnal Art Festival, The Nelson Public Library, and Fort McMurray's Keyano College.
Much of Sherry's inspiration comes from her relationship with the natural world;  in its minutiae and grandiosity; its richness, depth, clarity and simplicity.  She started painting in 2017 and within a few months had birthed over 350 pieces of fluid art.  It was just the beginning!
"Fluid Art….It was therapy…the surrender to the medium and the music…a whole new forum of expression that drove me deeper and deeper to my core.  I wanted to share this movement with others…the liberation from all the thinking and the dive into the dance of the heart."
Transmitting this knowing, this feeling of interconnectedness… became my focus.
Motion, multi-mediums, magic … whatever is at hand shapes my opportunity to create and share.  I feel driven by my desire to invite 'the other' to dance the spaces in between."
Sherry lives in Winlaw, BC.  See her work this summer at The Whole Arts & Culture Faire, Castlegar Artwalk, Nakusp Artwalk, Summer Breeze Festival, Hidden Garden Gallery, Nelson Artwalk and Mama Sita's.