Tell us a little about yourself, your work and your art practice.
I am a lifelong artist and Kootenay resident for 25 years. I've studied several art disciplines; performance art, fine art and functional art. In 1999 I was introduced to world dance practices. I fell in love with Middle Eastern Dance and in 2004 I founded Soul Fire Dance. (Visit Soul Fire Dance Website) I have stayed true to my training in classical oriental and folkloric dance, and have also developed fusion styles based on my experience with jazz and contemporary dance. Maintaining the integrity, cultural context and historical knowledge of traditional women's dance practices is incredibly important to me and is always integrated into my art and teaching.
While I have been teaching for over 16 years, I also continue to study various movement arts and maintain studies with my teachers. I love developing choreography, creating costuming and spending dozens of hours delving into music and exploring new musicians each season. Countless hours go into teaching and bringing a performance experience to others. Every year I bring together a wide variety of talented artists for production events and also provide showcase events for my dedicated students. We often have interactive aspects of a show, where we involve and inspire audiences, bringing music to life in dynamic and creative ways. It's important to me to engage others in an atmosphere that encourages self-discovery, soulful motion, body confidence and creativity through dance.
Watch Soul Fire Dance Video Highlights
 
What have you been up to these last few months?
While I have had a dance studio in South Slocan for almost 10 years, I recently built a home studio for my personal practice and live streaming classes. I've also furthered my professional development by taking more virtual classes with other dancers. Having performance opportunities cancelled this year has been crushing, so I was thrilled to be featured in a recent performance art documentary, Present Movement by Reverse Media, which premiered October 16. Developing new choreographies, and polishing up repertoire has kept me busy. I've also spent time sorting, repairing and organizing costuming. I've spent much of my recent dance practice working on my folkloric dance teachings and having discussions with one of my favorite teachers from Egypt, Nada El Masriya.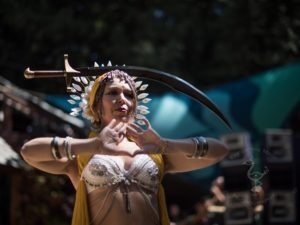 Has your practice or work changed at all or been affected, and to what extent, by the pandemic?
The pandemic completely changed how I engage with others with dance. In person classes were suspended, as was the use of my studio, and all performances were cancelled. I deeply miss dancing with others. We share so much more than dance when we are together. There's a kinship we foster by spending time together, connecting and supporting each other in our shared human experience. I was concerned we would lose that when I switched to virtual classes and I added time after classes for us to socialize and connect so that isn't lost.