Tell us a little about yourself, your work and your art practice.
My name is Matty Kakes. I'm a visual artist living with my family in Pass Creek. I mostly paint murals and street art, but occasionally I'll play around with canvases, found objects, doodling and cartoons. My work can be found all over the West Kootenays and often has a socio-political theme and/or reference to pop culture. I love vibrant colours, art made out of garbage, and word play.
As an educator, I'm interested in street art as a voice of the marginalized, as well as the possibility of promoting wellness through community art projects. I have lead tours in Nelson exploring the use of art and graffiti as both acts of beautification as well as resistance to the status quo.
What have you been up to these last few months?
Recently I erected in a massive billboard on my property! It's currently adorned with a Black Lives Matter mural and I plan to change it up every fortnight or so. It's going to be oodles of fun all summer long and because it faces Pass Creek Road, everyone will be subjected (even more so) to my political views.
I'm also facilitating a youth mural with several youth through the Nelson Youth Action Network and Nelson and District Youth Centre. It's a contribution to this year's Nelson International Mural Festival (NIMF) and we should be wrapping it up soon.
Finally, last week I filmed a 'virtual mural tour' for the third NIMF.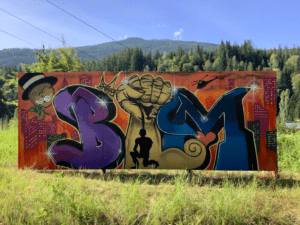 Has your practice or work changed at all or been affected, and to what extent, by the pandemic?
Adaptation is the name of the game. We were just about to begin the youth mural when physical isolation protocols went into place. At first it seemed like the project would have to be put on hold; however, with a little creative planning we have been able to follow through. I created a design that was easily divided into various stand-alone sections and the artists were delivered packages of arts supplies and their mural sections to work on independently. We have been connecting on Zoom to offer each other support and guidance. We're about to collect the various mural sections, combine and mount them on the wall. I'm going to do a bit of finishing work to finalize the piece and bam! – isolation group mural project complete! I think it's super amazing that we have been able to complete a project like this despite these circumstances.