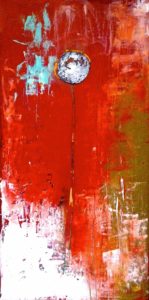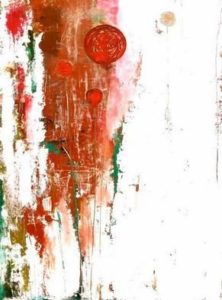 Tell us a little about yourself, your work and your art practice.
I grew up in Saskatchewan and then moved to Vancouver when I was 18 to begin a BFA program at Emily Carr University. I then moved to the east side of the country, where I spent some time working at a gallery in Toronto and later taught ESL in Montreal. While in Montreal, I was involved in several performance art projects at Concordia University which led me to further explore that art form, and when I returned to the prairies I began teaching youth acrobatic and dance-based performance art at Regina's Fada Dance company, while working on a BA in linguistics at the University of Regina. It was at this point that I began painting on a regular basis and showing my work. I then spent some time living in Edmonton where I had my first gallery show. I arrived in the Kootenays in 2010 after being drawn to Nelson by an interest in the arts community and the natural surroundings. In Nelson I found a perfect combination of things that I loved, but I eventually felt drawn to a more rural lifestyle in the Slocan Valley and this is where I've been based since 2015. I describe the work I do now as mixed media paintings that are inspired by patterns in nature and cycles of growth and decay. Spending time on the river banks and in the garden, I became interested in aesthetics of plant life as it progresses through its cycles. I developed an appreciation of the beauty of plants as they reach the end of their life and produce seed, and I began a study of seed pods. I work with acrylic paint and sand on canvas or wood panel, and I like to paint outside when possible.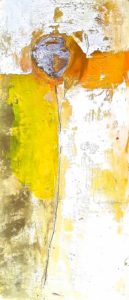 What have you been up to these last few months?
Over the last few months I've been going for a lot of walks. In the winter I mainly walk along various portions of the rail trail. I started a new series of paintings on oval panel, which are currently on display at the Kootenay Gallery of Art in Castlegar. I also do freelance editing and have been working on projects with several authors.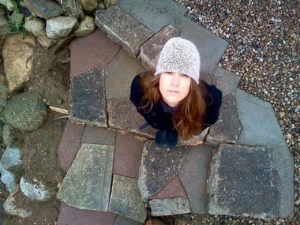 Has your practice or work changed at all or been affected, and to what extent, by the pandemic?
I can't say that my practice or the work itself has been affected by the pandemic. I'm naturally drawn to solitude and I work from home. However, I would say that my work is getting less exposure as a result of less gallery attendance. The Kootenay Gallery scheduled an online virtual gallery tour in the fall though, and I thought that was a great solution to the restrictions that are in place.
Check out more of Natasha's beautiful work below:
https://www.facebook.com/art.by.natasha.bogdasavich
https://instagram.com/natasha.bogdasavich.art