Tell us a little about yourself, your work and your art practice.
I have been a studio potter in the Slocan Valley since 1976, and built my first wood fired kiln here in 2000. That small 16 cu foot kiln was rebuilt into a large two chamber catenary arch wood-soda kiln in 2009 which I fire annually with a team of good friends and colleagues. My work is functional porcelain, poetry of form which arises from historical roots and mystical traditions.
  
What have you been up to these last few months?
I have been working in my studio and helping to build a new home.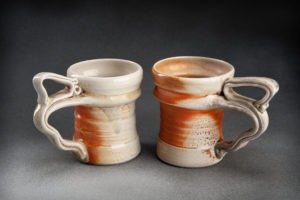 Has your practice or work changed at all or been affected, and to what extent, by the pandemic?
Although I have continued to make new work in studio,  I have stopped spending time and effort on Professional Business Practices.  Devoting precious energy to cultivating business aspects of being a working artist during this Pandemic  is neither fruitful or rewarding. I am fortunate that I am able to take a break from trying to sell my work during these times of stagnation, scarcity and isolation.