Peter Vogelaar is well known in the Slocan Valley. He and his partner Lesley Mayfield have championed the arts for nearly 30 years in the Slocan, and they have been at it as artists for even longer. We are sad to say goodbye to Peter this year, as he will be stepping down from his position with the Slocan Valley Community Arts Council Board. The current board is grateful to both Peter and Lesley for their tireless enthusiasm in building the legacy piece for our arts council and of course look forward to following their future arts endeavours both online and throughout the region, in whatever form they take.
If you haven't had the pleasure of meeting Peter, or are not aware of his art practise, here is a little bit to share in his words:
"I feel like a very lucky person. From an early age I was encouraged to follow my interests in art and subsequently, I have found myself creating art for most of my life.  Even when I was working in a oilfield city, I managed to make a living as a sign painter *with the fringe benefit of meeting Lesley there too!
Of course, the sign business is not as creative as people think. There are an awful lot of "No Parking" signs to paint for every occasional artistic piece that comes in the pile. But, it paid the bills, and allowed us to move to Kootenays about 30 years ago and start afresh. I did many watercolour paintings, sometimes plein air street scenes, sometimes live jazz musicians and landscapes here and abroad. I was happy to be painting, but it was difficult to make a living from it. Little did I know that when I entered a snow sculpture contest in 1992, I would be changing the whole direction of my life.  It didn't happen all at once of course, but some early success and validation along with the spirit of adventure kept me at it.  I really enjoyed making big sculptures in a short time, and the physical challenges of cold weather and big snow blocks.
Around 1999 I think the big break came. We received a call from Belgium to come and carve snow in Europe and….. get paid! Up til that time, there had been little or no money to be made from the snow sculpting. It was a constant effort to raise funds to get our team to exotic places like the Nagano Olympics or north of the Arctic Circle in Sweden. Working in Europe introduced us to a whole other bunch of artists, some who made their living sculpting ice and others who were primarily sand sculptors.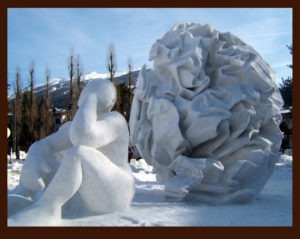 I was encouraged to get into sand and in 2003, teamed up with a fine local artist, David Ducharme and got swept up in the fun world of sand sculpting. Some different challenges from snow, but still very physical and still requiring the need to work quickly. Suddenly, with some prize money from sand contests and the snow and ice work, I was able to make a living as an artist!   It still feels wonderful!
The world of sand sculpture is very small, and we feel like one big happy family. Through networking, sand jobs come up at various parts of the globe, and I have been lucky to work in exotic locales like Taiwan, Venice, Kuwait (hmmmm, not so exotic) as well as compete in contests across North America.
When Castlegar sculpturewalk began, there was now an incentive to create permanent works for exhibition there.  I have had the chance to make concrete sculpture, steel sculpture , stone sculpture and recently did my first mosaic piece, Salmon Dance,  which is currently on display.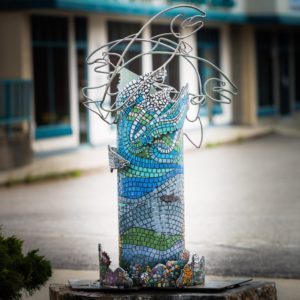 When at Kootenay School of the Arts, back in the 70's, I studied printmaking.    A few years ago I created a lino print for inclusion in a group show about bringing back the salmon.  Now, I hope to do more prints, especially if the whole world of festivals and contests remains on hold for a while.
As I said at the beginning, I am a lucky guy!"