Tell us a little about yourself, your work and your art practice.
My name is Lou Lynn. I'm a sculptor, working in glass and bronze. My studio is located on our property in Winlaw. My work has an implied reference to once-familiar tools or functional objects, and are often abstractions of things from the past.
For many years I made stained glass, working on commissions and participating in craft fairs. However, a hankering for exploring something more led me to discover the Pilchuck Glass School in Stanwood Washington. Over the years, I participated in many summer sessions at Pilchuck, and met a number of inspiring artists who exposed me to new ground breaking techniques in glass. This new network of friends and fellow artists encouraged me to pursue my interest in using glass as a sculptural medium.
For a while I experimented with slumping glass, then I moved onto casting glass, which has many technical challenges.  I also experimented with other materials such as cast aluminum, and eventually cast bronze. I don't consider myself to be purist towards any one medium, and instead choose to work with a variety of materials. I am working on a piece now that will have blown glass components, some cast bronze components, turned wood components, all held together by hand made twine.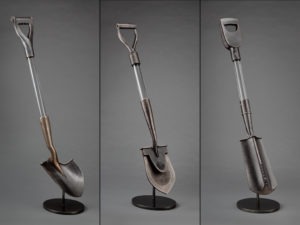 What have you been up to these last few months?
Mostly I have been working in the garden. With COVID, a number of opportunities cancelled or postponed. So I tried to figure out What does COVID mean to all of us?   Eventually, I decided the most important thing I can do during these times is to grow a garden. At this time of year, I'm usually gardening, however this year it took on a new significance.  Recently we have made some changes to the studio and I'm starting to work again.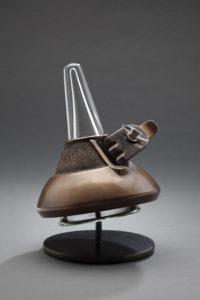 Has your practice or work changed at all or been affected, and to what extent, by the pandemic?
In March when COVID arrived, my work was included in a group show at the Herringer Kiss Gallery in Calgary. After the big shut down, the gallery kept their doors open by appointment and even extended the show by a couple of months. A major show that was scheduled to open next year in Halifax, was cancelled and I have concerns about both the commercial and public gallery system in the long term.  Happily, in September my work is included "Personal & Material Geographies" at the Italian Cultural Centre in Vancouver, organized by the Craft Council of BC and curated by Mary Beth Laviolette.
My work cycle is most productive in the winter and so this winter, in addition to working in the studio, I will be researching exhibition opportunities. I love the simplicity of winter, shoveling the path to the studio to start the woodstove, back for breakfast and then get to work.
Stay safe and stay creative!