Marya Folinsbee // Miss Marmot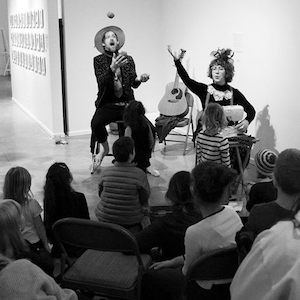 Marya Folinsbee (AKA Miss Marmot) is a clown, playwright, actor, and theatre-maker who lives in Winlaw (Sinixt Territory) with her family. Marya creates original, interactive, clown-inspired theatre for all ages and occasions. She loves roaming around festivals & events, offering foolish interventions and thought-provoking stories.
Marya has toured the Kootenays with her original two-woman show, Be/Longing, created in collaboration with Martina Avis. You may also have seen her performances at Touchstones Museum, Summer Breeze Art Party, New Denver Writer's Convergence, and as a founding member/performer with the Valley Gems. She is currently creating new one-woman show called Domesticated Disputes, set to debut in Spring of 2020.
Contact + Connect:
Website: http://www.missmarmot.com
Email: play@missmarmot.com